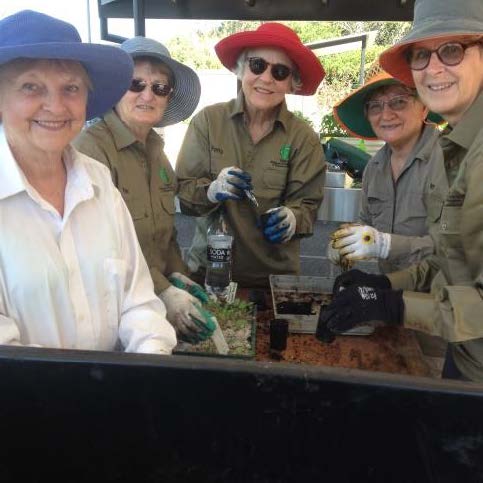 We encourage you to volunteer and benefit from the friendship and sense of community that comes from  an organisation such as ours. We welcome and need a wide range of skills. Our members come from all walks of life. You can start by just joining in for one or more single events.
---
Interested in Event Planning?
Our events committee looks after our activities and events program planning, booking as well as helping on the day with organisation including serving refreshments. Events include monthly speakers meetings, weekend talks conferences, morning teas, small gatherings, exhibitions etc. Director Arno King, horticultural and landscape architect, Chairs the Events Committee and supports the Friends through his wide network of industry contacts.
---
Interested in Social Media Editing and Publishing?
Volunteers with computing and editing skills are always welcome on the team to administer social media platforms, upload posts and produce brochures, media releases and assist the Newsletter Editor, Dr Jean Sim and the Director for Communications, Annette Irish.
---
Creative with ideas for Marketing and Publicity?
We are always looking for people with relevant experience or who are happy to get involved in this essential area of marketing and publicity to enhance member experiences and promote The Friends.
---
What skills and experience do you have?
We have many areas which would benefit from a range of skills such as general activities, preparing supper, quarterly lilygram distribution, the annual Brisbane Tomato Festival, the bi-ennial Horti-Couture garden art and the Friends end of year celebrations and Xmas party.
---
Have you an eye for detail?
The Friends provide assistance at various botanic exhibitions, being involved in other plant and garden related events  along with other future art and craft events. 
The Master Class Gardeners Program – new program being developed in 2019
Master Gardener Class programme – help the team provide an in-depth learning experience for the participants and work alongside leading horticulturists during the development and implementation of the certificate program.
Gardens Programme
Enjoy getting dirty and working with KITCHEN GARDEN VOLUNTEERS?
The Friends offers herb and vegetable gardening experiences from March to September each year (may be extended beyond these times in the future). This includes traditional plants as well as bush tucker/ native plants. BCC staff initiate projects for the FBBGSA volunteers to complete each month and range from planting, weeding, potting up, cultivating, composting etc. Volunteers work in small groups to complete the tasks and learn by doing as well as education offered by the BCC staff.
Growing Friends
The Friends conduct morning sessions to learn to propagate plants at Mt Coot-Tha Gardens on a monthly basis. Skills covered in the programme include selecting stock for propagating; time of year; watering; fertilising; different growing media; potting up of cuttings; care when handling and monitoring systems and recording results
2020 Banks & Solander – hosted on behalf of the AAFBG Biennial Conference
Where to from here?
Complete the online form below or print and email the application form to members@fbbgsa.org.au.  Any questions and wish to talk to us send a message via email members@fbbgsa.org.au
Look for opportunities noted in our weekly Mailchimp eNews, Facebook, Twitter and in our quarterly newsletter Lilygram