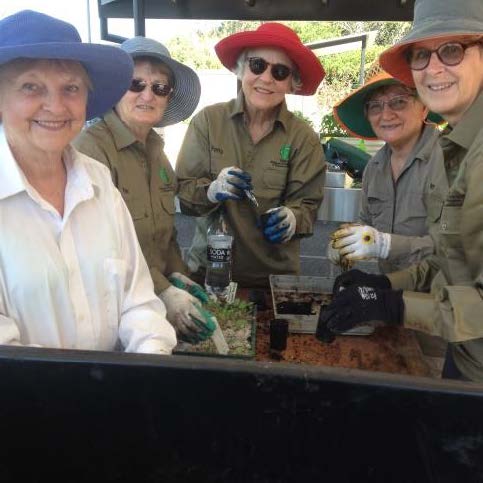 The Master Class Gardeners Program – new program being developed in 2019 for 2020 release
Master Gardener Class programme – help the team provide an in-depth learning experience for the participants and work alongside leading horticulturists during the development and implementation of the certificate program. 
Kitchen Gardens Programme
Enjoy getting dirty and working with KITCHEN GARDEN VOLUNTEERS?
Currently this Green Group is at capacity. Please register your name for future vacancies at members@fbbgsa.org.au
Friends of Brisbane Botanic Gardens & Sherwood Arboretum (FBBGSA) offers herb and vegetable gardening experiences from March to September each year (may be extended beyond these times in the future). 
This includes traditional plants as well as bush tucker and native plants. BCC staff initiate projects for the FBBGSA volunteers to complete each month and range from planting, weeding, potting up, cultivating, composting etc. Volunteers work in small groups to complete the tasks directed by BCC gardens staff. 
Volunteers engage in the following tasks:
pH testing of soils
Seed and seedling planting out including potting mediums, fertilising etc
Composting techniques
Monthly review of growth and impact of pH, sun/ shade conditions and management of local wildlife on the produce – scrub turkeys, cockatoos, "visitors"
Preventative strategies to minimize pests and diseases
Watering and fertilising options and
Team work and value of connecting with like minded people.
The gardens staff are not trained as teachers, carers nor supporters to member needs in their endeavours to gardening. Basic horticultural skills and ability to use tools without supervision are a pre-requisite. This is not a training program. 
Growing Friends
The Friends conduct morning sessions to propagate uncommon, rare and endangered plants at Mt Coot-Tha Gardens. The programme includes selection of stock for propagating according to the nursery program schedule; watering; fertilising; potting up of cuttings; monitoring and recording results. 
A Growing Friends nursery is to be built in early 2021 providing on-site plant production resources for the gardens and plant sales. 
Basic Horticultural skills and ability to use tools without supervision are a pre-requisite. The gardens staff are not trained as teachers or carers, nor can they support member's needs in their endeavours to learn to propagate plants. This is not a training program.
Names can be entered on the waiting list by emailling members@fbbgsa.org.au
Terms and conditions of membership and volunteer training apply
Plant Labelling Volunteer program
The Plant labelling team works across different areas of the garden recording the plant species in the collection, their location, size, health and at times, their identity. This information provides valuable information on the plant species in the collection
their growth rates and health. The information recorded can be used for the regular plant collection audits.
Where to from here?
Are you a member of fBBGSA? 
If you are not a member, please join on-line and then register as a volunteer. 
Training: Volunteers are required to attend the annual ½ day BCC/fBGGSA induction workshop and re-register as a volunteer on an annual basis.