Articles from around the internet
Bushfire recovery: through community, conservation and collaborations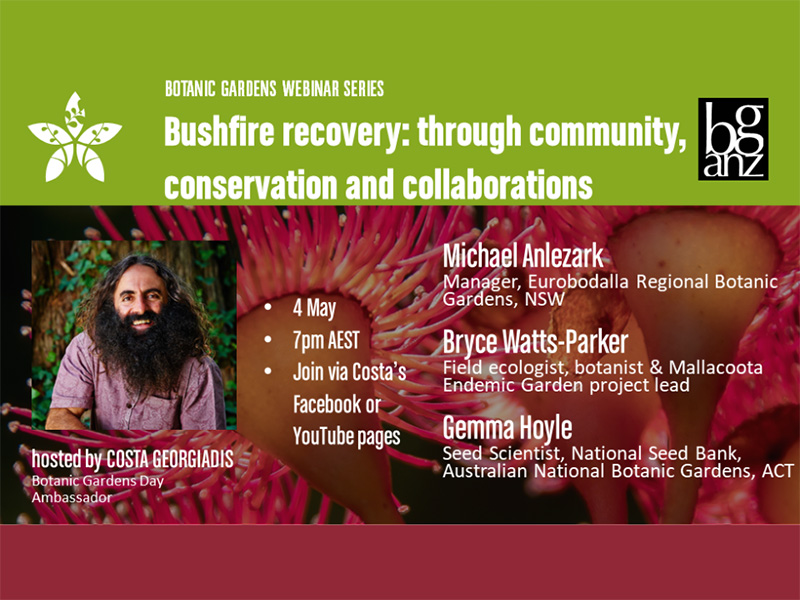 Join Costa as he hosts the first Botanic Gardens Day 2023 webinar,
Next Thursday 4 May at 7pm AEST
The impact of the 2019/20 Black Summer bushfires on Australia's native plants and animals has been severe. Millions of hectares of native vegetation were burned, putting the survival of many plant and animal species at risk. 
Botanic gardens across south east Australia are playing a critical role in the recovery of fire-affected flora. This webinar will explore the roles from three quite different perspectives. 
Michael Anlezark is the Manager at the Eurobodalla Regional Botanic Gardens in southern NSW. The Eurobodalla Gardens were directly affected by the Black Summer fires and Michael will reflect on both the recovery of the cultivated garden and the magnificent flora of the South East Flora Bioregion. 
Just across the border in Mallacoota, the community have rallied to build a brand new botanic garden in response to the devastating fires that impacted East Gippsland in Victoria.
Bryce Watts-Parker is heading up an ambitious project to create the Mallacoota Endemic Garden with the support of the Friends of Mallacoota, Parks Victoria and the Royal Botanic Gardens Victoria. Bryce also works in the local bushland and has documented the recovery of many fire-affected species in the wild.  
We will then take a national perspective on bushfire recovery and hear from Gemma Hoyle, Seed Scientist at the National Seed Bank at the Australian National Botanic Gardens, who will discuss a project named Survive and Thrive: Fire recovery and climate change resilience for threatened plant species in sub alpine south-eastern Australia. 
To join the webinar, head to Costa's Facebook or YouTube pages at 7pm AEST on 4 May