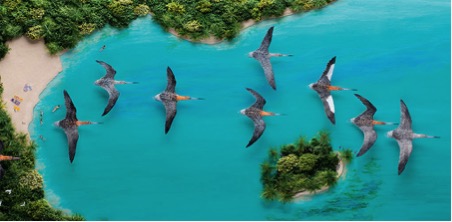 Brisbane Botanic Gardens, Mt Coot-tha will play host to the traveling exhibition "Circle" from award-winning children's author, artist and film maker Jeannie Baker. The story book behind the exhibition is inspired by the migration of the Bar-tailed Godwit (Limosa lapponica baueri) from Australia through Southeast Asia, to its Alaskan breeding grounds and then back to Australia.
The 11,000-kilometre return journey is the longest known unbroken migration of any animal in the world, and it inspired the book and subsequent exhibition, which feature tactile, exquisitely-detailed and textured collages Jeannie is famous for. The circle of life is traced in the exhibition and reminds the viewer that everything in life is interconnected and that we should strive to protect our global ecosystem, in which there is a delicate balance
Jeannie visited each of the locations featured in the book to see the birds in their natural habitat, then used unique materials from each of those places to create her artwork. The exhibition features beautifully executed collages made from tiny pieces of wool, earth, plant material, feathers and glass.
The exhibition opens in the Richard Randall Art Studio on Monday 8 January 2018 until Sunday 25th February 2018. Entry is by gold coin donation.
For further information on opening times and days contact the botanic gardens at botanicgardens@brisbane.qld.gov.au or phone (07) 3403 2535