Friends of Brisbane Botanic Gardens and Sherwood Arboretum Ltd.
is a not-for-profit Company limited by Guarantee.
OUR COMPANY OBJECTIVES ARE:
1. To advocate for the conservation and protection of heritage, natural, scientific and recreational values of Brisbane Botanic Gardens and Sherwood Arboretum;
2. To encourage high standards and effective management and maintenance of Brisbane Botanic gardens and Sherwood Arboretum;
3. To support the administration and enhancement of BBGs and Sherwood Arboretum;
4. To promote public appreciation of BBGs and Sherwood Arboretum as well as scientific, horticultural, artistic, literary and educational interests at local, State, Federal and international levels;
5. To engage with a widely diverse community with a program of ongoing events and activities in support of BBGs and Sherwood Arboretum;
6. To connect with individuals, groups, organisations and agencies and share knowledge and experience in order to achieve the foregoing objectives.
---
Patron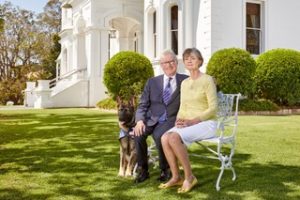 His Excellency the Honourable Paul de Jersey AC, Governor of Queensland 
became The Friend's patron in November 2017
Mr de Jersey AC, practised law in Queensland and was called to the Queensland Bar in 1971. He took silk in 1981 as one of Her Majesty's Counsel (QC). 
He was appointed a Judge of the Supreme Court of Queensland from 1985 – 1998 and then
 Chief Justice of Queensland on 17 February 1998 holding the position until 2014.
His Excellency was appointed the 26th Governor of Queensland on 29 July 2014.
QLD Governor's Community Support 



The Governor supports many organisations and programs across the State through a program of community engagement. The Governor's duties include:
An extensive program of travel throughout the State to major centres and regional and remote communities

Using a platform for advocacy to provide patronage to a diverse range of Queensland groups through a program of community engagement

A wide-ranging program of activity such as visits, speeches, receptions, and celebrations of many milestones and anniversaries throughout the State.
---
FBBGSA Board of Directors
The Friend's Board is made up of individuals with a vast range of skills and experience. The diverse membership of the Board represents a wide variety of views; however, all Board members share the common goal of sharing their expertise to support the achievement of our objectives.
Chair
Julie Lumsdale
As a keen gardener with an active family, who are all also interested in gardening, Julie retired to further develop her gardening knowledge and skills.
Her qualifications are Associate Diploma in Applied Science (Psychology) with studies related to pharmaceutical work.
After 40 years of working in the fields of employment managing people with physical/ mental restrictions and the pharmaceutical and medical insurance industries Julie brings additional skills to the Friends Board.
She has been actively involved in Australian Garden Clubs for 8 years and in 2015 was selected as Ambassador for the Qld Council of Garden Clubs for the year.
Email: info@fbbgsa.org.au
Mobile: 0455 512 302
---
Vice Chair

Annette Irish
Fellow Australian Institute of Horticulture,  Registered Horticulturist (RH08)
Annette has been a practising horticulturist and teacher for over 4 decades and loves working with soil, enhancing soil fauna and collecting unusual plants, tropical species and orchids.
From March 2006 to April 2017 her company, A.I.M.S, as Project Managing Consultants, has been working with Singapore Government developing and teaching the Certified Practising Horticulturist Programme for the landscape industry).
Annette had the honour of being conferred as a Fellow of the Australian Institute of Horticulture in 2000 and recently was awarded the President's Commendation for High Achievement for her work within the industry.
In her capacity as VC Annette aims to focus on educational and development programmes to help create opportunities for the public and industry to expand their horticultural skills and knowledge.
Mobile: 0406 824 438
Mon – Thurs 10-4pm only
---
Secretary
Dr Jeannie Sim
BDesSt, BArch, GradDipLandArch, MA (Conservation Studies), PhD.
Dr Jeannie Sim is a garden historian and landscape architect. She was a Senior Lecturer in the School of Design (1997-2016) until her retirement but has been drawn back as a part time lecturer for the LA degree students.
Her passions include researching warm climate garden history (especially Queensland) and the conservation of historic landscapes.
Her 2000 doctoral thesis revealed 'Tropicalian' garden design history and featured in various publications, including 50 plus entries in the well-respected Oxford Companion to Australian Gardens, edited by Richard Aitken and Michael Looker (2001).
Jeannie's heritage consultancies have focused on conservation management plans and reviews for the Old Brisbane Botanic Gardens and The Government House Grounds, Paddington.
Jeannie is a founding Director of the new Friends of Brisbane Botanic Gardens and Sherwood Arboretum and a founding member of the Lord Mayor's Advisory Committee on Parks and Botanic Gardens.
---
Treasurer
John Taylor
John's background as a forester has enabled him to immerse himself in the management of natural resources both in Victoria and Queensland. In the world of horticulture his journey has been varied and interesting.
He managed the Royal Botanic Gardens, Melbourne and also as Director of Parks and Gardens for the Brisbane City Council.
John had the enviable role of managing the Currumbin Wildlife Sanctuary and was until recently national Chair of the Australian Garden History Society.
He now works as a consultant.
---
Director

Arno King GDLA MUP FAIH RH
Arno is a Registered Landscape Architect and Registered Horticulturist with more than 30 years of experience in landscape design, horticulture, urban design and visual assessment.
A prolific writer, his articles are featured in blogs, many specialist journals and popular magazines. Arno has a special interest in planting design, incorporating appropriate vegetation to enhance our urban spaces.
He is committed to professional education and to mentoring novice practitioners.
---
Director 
Sue Ogilvie