Description
Mothers Day Garden Tour directions and a full description of gardens will be provided upon purchase of tickets. Members may bring as many guests as they like on their booking. Member's number must be quoted for purchase.
Morning Tea: Garden 1 from 10.30am to 12.30pm.
Afternoon Tea: Garden 4 from 1.30 to 3.30pm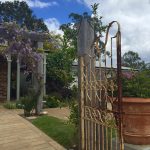 Garden 1 Brookfield.  Open from 10 to 1pm. Morning tea available at this garden  …a generous garden laid out with long shrubberies bordering lawns. Pergolas and courtyards around the house provide shade and intimate areas.   Orchard.
Garden 2. Open from 10 to 1pm. …a clever garden with detailed layout of plants to enhance the entry and rear garden . Borrowed landscape of bushland encloses the garden.
Garden 3 Corinda. Open from 1pm to 4pm. This garden features a rambling Queensland cottage garden surrounding an old timber house.
Mixed shrubberies under shady trees include 21 camellias, shrimp plant,blue ginger and orchids.
Camellias will be in flower in May. Also of interest is the tangle of foliage in the shrubberies including grey myrtles, sacred bamboo and variegated graptophyllums.
Garden 4 Bellbird Park. Open from 1pm to 4pm. Afternoon tea available at this garden. The colourful Dutch/Australian cottage garden in the front of the house will delight your senses, flowing down past the house, guiding you via a series of sandstone steps under the halfway gate and past the bridge of tranquillity to the house of reflection …and all under an embracing canopy of various rainforest trees and some magnificent old gum trees underplanted with delightful understory plants.